Hangsen - Bubble Gum Mint
Hangsen description: Minty Bubble Gum
Experts description: Refreshing spearmint bubble gum taste. Not like others artificial mints. This is the real spearmint tasting bubble gum. Slightly to the dry side. Could benefit from a touch of sweetener.
Mix % - Single: 5%
Mix % - Combo: No suggestions yet!
Key notes: Labelled as Bubble Gum from Hangsen, but due to the minty twist, we call it Bubble Gum Mint
Pairs well with: Cooling
Be aware: Start low. If mixed with other non-bubble gum, it will definitely get a dominant bubble gum note
Remember: As in all flavours, the individual taste is subjective and will vary from one person to another. The above is only other person's description and suggestions. 

Content....
xxx
About the manufacturer....
Hangsen has since 2009 been one of the globally leading figures within the e-cigarette industry and service customers in over 85 countries worldwide. With a 60.000m² production, laboratory, warehouse and 1000 employees, they are well equipped within branches in Europe, North America and Asia. In 2006, Hangsen reached a milestone, with 100.000.000 bottles of eLiquid sold worldwide, within a year, which made them the worlds largest eLiquid brand based on volume. To be able to supply that demand, it requires a large production facility. With a production capacity of 6.000.000 bottles per month, their latest facility in Poland shows their ability. Only USP grade raw materials, made in USA, are used in the flavouring production. Cleanliness are a must at Hangsen, and as such they have a ISO certified cleanroom, with a cleanliness class of 10.000. Before a product are shipped, it has to pass 10 different quality controls and 5 different product test procedures, and even with their own test laboratories, they still corporate with 9 different and independent laboratories worldwide, to secure the best quality products for the customers. Hangsen are especially known for their tobacco flavours, and with good reason. They have their own tobacco extract factory, to filter the toxic ingredients and extract the effective ingredients from the tobacco leaves.
Sizes....
10ML Sample (Clear PET)
10ML (5pcs - Clear PET)
250ML (Amber PET)
500ML (Amber PET)
1000ML (Amber PET)
All sizes come with Child & Tamper proof cap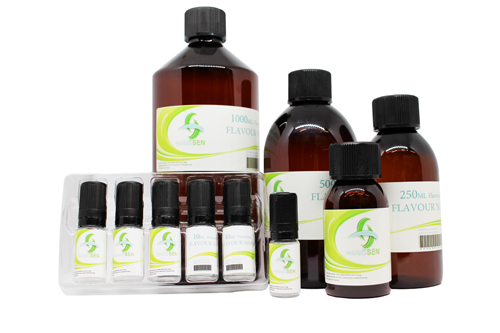 Important information....
All flavours are rebottled responsibly in our own ISO certified cleanroom. The flavourings are undiluted and in full strength, directly from the manufacturer.
Because individual taste is subjective, and will vary from one person to another, we do not offer refund based on individual likes or dislikes of the manufactures flavouring, and all sales are final. We recommend that you try a 10ML Sample of new unknown flavours, before ordering larger quantities.
Specific References
ean13

5714178026353
All data connections are established through a secure SSL connection to protect your privacy.

All approved orders put in before 13:00, will be sent the same day.