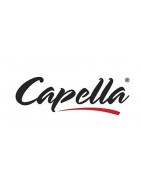 In 2005 The Capella Coffee Co. introduced their first coffee and tea flavourings. After a few years The Capella Coffee Co. decided to expand on their flavour line, and in 2008 they launched Capella Flavor. The company began developing delightful flavourings to be used in variety of products beyond just coffee and tea. Starting with just 6 flavours, their mission was to provide the finest post brew flavourings for food and beverages, without any fats, calories or sweeteners.

Things have changed since the first line of only 6 flavourings, due to popular demand, their flavours took off and now Capella can offer customers over 150 unique delicious flavours.
One thing that has never changed over the years, is the commitment to make the highest quality, concentrated flavouring on the market. Even though Capella Flavor have their own laboratory for testing, every flavour is shipped to a 3rd party laboratory for even more extensive testing and certification, this ensures that the high quality is the same with every batch made.
Today Capella Flavor provides flavours to over 60 countries around the world.