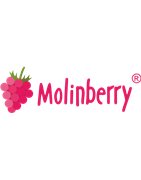 Molinberry were established in 2012 in United Kingdom and is a collaboration between Sobucky Ltd and Chemnovatic. Chemnovatic is known world-wide for their products, and have a big factory in Poland, machines and equipment are certified to ensure high quality. Furthermore, Chemnovatic is ISO 9001, GMP and HACCP certified. Molinberry is a brand of high quality concentrated flavourings for e-liquids, it is a line of carefully selected flavourings, which have an authentic and intensive taste, Molinberry have over 80 flavours in available.
They have strict quality and safety procedures, which is confirmed by valid certificates. All flavours are in conformity with European food flavours regulations 1334/2008, and do not contain colorants or preservatives, they are Non-Genetically Modified Organism (non GMO).
Chemnovatic have their own laboratory that allows them to verify every production batch on an ongoing basis. The lab is equipped in chromatograph which enables them to test the exact composition of each product.