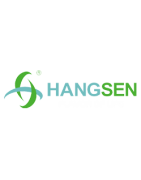 Since 2009, Hangsen has globally been one of the leaders in the e-cigarette industry, serving customers in over 85 countries worldwide. With their 60,000m2 production, laboratory, warehouses etc. and 1,000 employees, divided into departments in both Europe, North America and Asia.

In 2016, Hangsen hit a milestone with 100,000,000 bottles of e-Liquid sold worldwide over a one-year period, making them the world's largest e-liquid brand based on volume. In order to deliver these quantities, it requires good and stable production, as their latest branch in Poland testifies, with a production capacity of 6,000,000 bottles per month.

In flavour production, only USP grade raw materials made in the US are used. Cleanliness is a must at Hangsen, which is why they have an ISO certified cleanroom, with a cleanliness class of 10,000. A product is not shipped to customers until it has gone through 10 different quality controls and 5 different product tests have been completed. Even with their own testing laboratories, they work with 9 independent laboratories around the world to ensure the best quality. Hangsen is especially known for their tobacco flavours, and for good reason. They have their own tobacco extraction plant, to filter out the toxic ingredients and extract the effective ingredients from the tobacco leaves.

Isn't it about time to dispel the myth that Hangsen is some unclean and poor quality liquid from China?