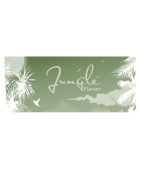 Although Jungle Flavor is relatively new to the market, their popularity has increased incredibly fast, a big part of the popularity is the really high quality that gives you an incredibly pungent and aromatic flavour experience.
Jungle Flavor is made in the United States, only the highest quality raw material is used, at a state-of-the-art factory, where strict quality requirements and uniformity allow full traceability right down to each individual raw material and up to the finished product.
All the ingredients used for these flavours are of the highest quality and carefully selected by their chemist, this ensure that you get the best and correct taste experience. At the same time, all flavours from Jungle Flavour are food grade, this can be seen as an extra quality stamp, as they do not contain any dangerous substances.