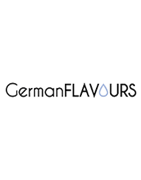 Founded in 2012 and located in Sprockhoevel, Germanflavours is one of the leaders for high-end liquids for e-cigarettes on the German market. They successfully serve more than 50000 customers in Germany, the European Union and the United States. They are constant growing, due to their fantastic flavours that always meet the high standards and legal requirements.
Germanflavour have a big distributor network that is widespread worldwide, and currently has more than 400 distributors.
Within three years they had to expand their production facility from 100m2 to 2200m2, also the number of employees increased at the same time due to demand from costumers. The production facility meets the required ISO standards required for food grade flavour manufacturing.
From the start Germanflavours stands for quality "Made in Germany". Flavours are made exclusively of carefully selected high-end resources. Germanflavours offers more than 280 different delicious flavours with something for everyone!