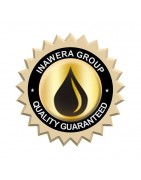 Inawera is a big Polish flavour manufacturer, located in Lublin. They are well known throughout the vaping community for making high concentrate flavours.
flavours from Inawera have been created from food flavours, and then reconstructed specifically for vaping.
The big factory in Lublin has state-of-the-art production facility that is ISO certified to meet the strict restrictions required when making flavours and e-Liquid.
Every flavour is tested by their own lab and send to test in a third party lab to ensure that it meets the standards that we expect from every Inawera flavour.
Inawera have a few different flavour lines: Standard Inawera, Wera Garden, Tino D'Milano, Inawera Classic and Inawera Shisha. All of them provides a superior flavour experience.